I have sent you $100 million homes and condos that are now reaching that same level. I sent the top ten land owners including Ted Turner who once again was the top land owner in America with over 2,000,000 acres. Today, you get to see the world's smallest homes. How small? Less than 500 square feet. One of these is so cool, I dug up a whole article with a number of photos at the bottom. Be sure to scroll down to see Chris and Malissa Tack's home in Seattle. Amazing.
This is a trend you will continue to see in major metropolitan areas as prices increase. In Phoenix, the Shemer Art Center holds an annual Micro dwelling competition. Here is the link to see some of the cool designs from the competition this year: http://www.microdwelling.net/.
Craig
602.954.3762
ccoppola@leearizona.com
The 24 Tiniest Homes on Earth
 
 By: Melissa Stanger
January 10, 2014

Think your place is small?
These small spaces will put your 500-square-foot studio to shame. Small spaces are trending in real estate these days, and these folks are grabbing the bull by the horns.
Here are 24 of the smallest homes we could find, from all over the world. They're on roofs, on wheels, and in backyards.
They may make you feel claustrophobic, but their owners have found them to be quite livable.
New York City will get 370-square-foot micro apartments.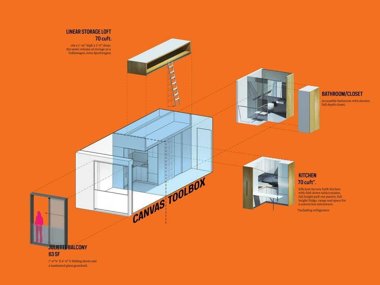 NYC Mayor's Office/Flickr
Size: 250 to 370 sq. ft.
Location: New York, NY
Last January, New York City Mayor Michael Bloomberg finally revealed the design of the studio apartments that will be no more than 370 square feet.
These apartments would be an affordable housing solution for young professionals and will be able hold a kitchen, bathroom, living area, and sleeping area.
The affordability is debatable, however, as the micro apartments will still cost between $940 and $1,700 a month to rent.
This 330-square-foot apartment in Hong Kong transforms into 24 different room combinations.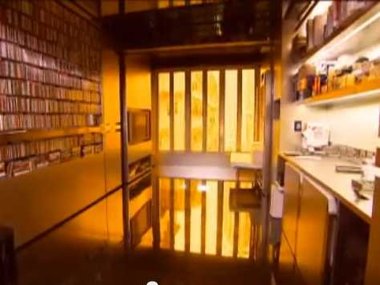 JellyWoo1014 via YouTube
Size: 330 sq. ft.
Location: Hong Kong, HK
Gary Chang, an architect in Hong Kong, turned his family's tiny 330-square-foot tenement apartment into a sleek and efficient living space with 24 different room combinations, including bathrooms, kitchens, living rooms, and even a guest bedroom area.
So, how does he do it? Chang installed a number of sliding panels which he can move around the space to reveal hidden areas and storage. It's a system he calls the "Domestic Transformer."
San Jose is also getting its own 300-square-foot micro apartments.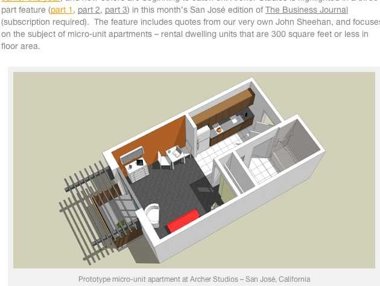 screenshot via Studio E Architects blog
Size: 300 sq. ft.
Location: San Jose, Calif.
In August 2012, the San Jose Department of Housing built a development of 42 affordable single-room-occupancy apartments, each one 300 square feet or less. Designed by Studio E Architects, each unit measures about two parking spaces and includes a full kitchen, a bathroom, and a combined living/sleeping area.
There is a long wait list for one of these studios, but at a price of $650 a month, the wait may well be worth it.
People like Peter Miller have already made home in places smaller than 300 square feet in Seattle.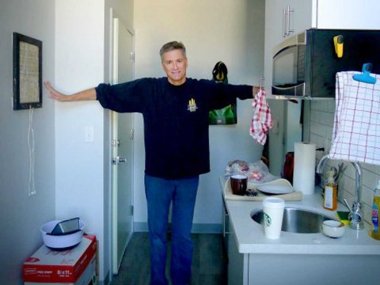 Zillow
Size: < 300 sq. ft.
Location: Seattle, Wash.
Peter Miller lives in Seattle's Footprint Wallingford, a community of 40 micro-apartments, in one of Seattle's most desired hotspots. In less than 300 square feet he has a bed, lofted above the living area; a bookshelf and desk for working; and a wardrobe. While he has his own bathroom, he shares a kitchen with the other building residents.
It's not ideal, but at $950 a month in a neighborhood where the median rent is $2,429, Miller gets the luxury of location and month-to-month commitment, should he decide to opt for a bigger space in the near future.
Twelve Cubed is a company that makes 10- and 12-foot cubed housing units.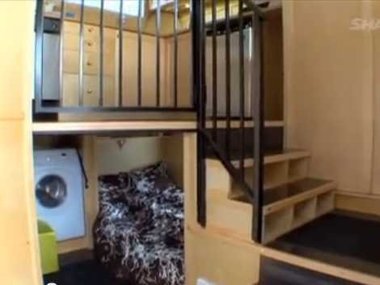 james stuart via YouTube
Size: 288 sq. ft.
Location: Vancouver, B.C.
When James Stuart learned of a homeless woman who died of a fire in her cardboard shelter on the streets of Vancouver, he decided to found Twelve Cubed, a company that designs and manufactures 10x10x10-foot and 12x12x12-foot homes.
Each home, which is up to 288 square feet when you consider that it is two levels, has a bed, a living area, desk area, kitchen, and bathroom. It can even come equipped with a washer, dryer and a dishwasher. Stuart himself lived in one of these units for eight months to prove that it can be done, and is hoping cities will be interested in buying them as housing options.
This 258-square-foot home in Barcelona was once an old pigeon loft.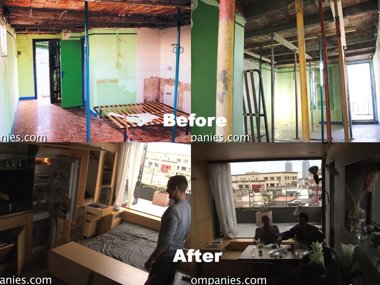 kirstendirksen via YouTube
Size: 258 sq. ft.
Location: Barcelona, Spain
When photographer Christian Schallert moved to Barcelona in 2003, he went searching for the perfect, affordable home. He found it in an old pigeon loft on top of a building, about 100 steps up.
When Schallert arrived, the 258-square-foot space was dirty and had not been maintained, but he designed and remodeled it into a warm, open, "Lego-style" apartment. The walls slide to reveal different room set ups. Moving panels hide his kitchen, closet, bathroom, dining room and living room, and the bed is stored under the terrace balcony that overlooks the city of Barcelona.
San Francisco is getting tiny 220-square-foot micro apartments meant for two people.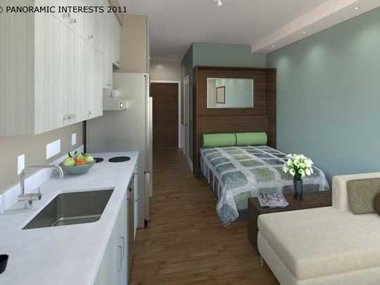 Panoramic Interests
Size: 220 sq. ft.
Location: San Francisco, Calif.
In November 2012, San Francisco's Board of Supervisors approved plans for 220-square-foot apartments, but only on the condition that they cannot be occupied by more than two people.
375 units of these apartments will be built to help manage the affordable housing crisis in San Francisco, where the average studio currently rents for $2,000 a month. The new micro-apartments would rent for $1,200 to $1,500 a month, which is considerably cheaper, but still surprising for the size of the apartment.
A Yale student built a 144-square-foot environmentally-friendly home instead of living in traditional student housing.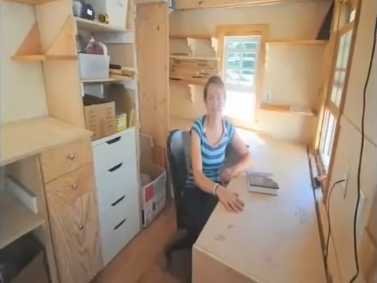 Michael Janzen via YouTube
Size: 144 sq. ft.
Location: New Haven, Conn.
When grad student Elizabeth Turnbull was accepted into Yale's School of Forestry and Environmental Studies, she built her own 144-square-foot tiny house instead of opting for university housing.
During the building process, Turnbull made sure to keep in mind the environmental impact her home would have and to minimize any potentially harmful effects by using all FSC-certified wood, non-toxic paints and finishes, and recycled windows.
This 140-square-foot home is beautifully designed.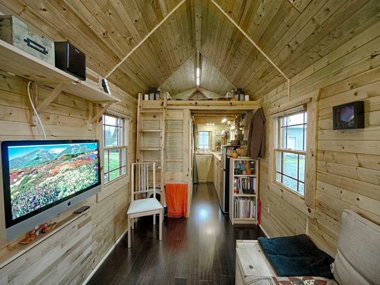 Chris and Malissa Tack
Size: 140 sq. ft.
Location: Seattle, Wash.
Chris and Malissa Tack built their 140-square-foot home just outside of Seattle. They had both been working in the tech industry and decided to leave their complicated, material lives behind and make a clean break, starting with a smaller, simpler home.
The home has cut their living cost substantially, and they predict the home will be paid in full in just two or three years. Chris Tack, who now works as a photographer, has taken many beautiful photos of the home, which has a kitchen, living and dining area, bathroom, storage area, and sleeping loft.
A Colorado couple prefers to live in their 124-square-foot mobile in the middle of nowhere.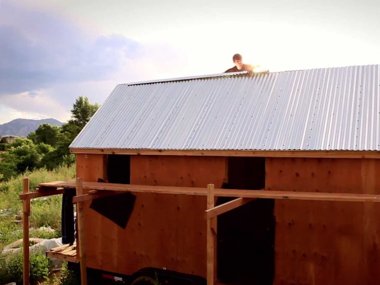 Screenshot, TINY: A Story About Living Small
Size: 124 sq. ft.
Location: Colorado
Colorado couple Christopher Smith and Merete Mueller began building their home back in 2011 and documented the journey in a new movie called "TINY: A Story About Living Small."
The house has a small galley kitchen, a bathroom, and a sleeping loft nestled between the floor and the 11-foot-high ceilings. For storage, the couple makes use of a small closet and two built-in bookshelves, and works from a built-in desk a reclaimed hardwood table.
This 112-square-foot mobile house traveled across 9,000 miles.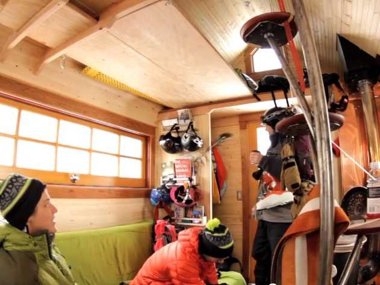 OutdoorResearch via YouTube
Size: 112 sq. ft.
Location: Mobile around the U.S. and Canada
Zach Griffin and four friends decided to take an epic, cross-continental ski trip, and built a 112-square-foot mobile pod house where they lived for the six week, 9,000 mile-long trip.
The tiny house has a "drawbridge" bunk bed that comes down from the two-person sleeper loft, and a pull-out sofa bed. The skiers relied on the kindness of hostels and strangers for bathrooms, as the pod has none. It does, however, have electricity, a generator, and a toaster oven and propane stove as their kitchen.
They even made a movie about their trip in their tiny, temporary home.
This 100-square-foot environmentally-friendly house will actually earn you money.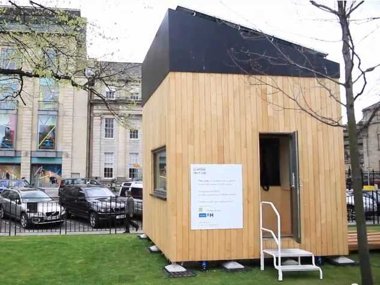 thehypnoguy1 via YouTube
Size: 100 sq. ft.
Location: Edinburgh, Scotland
This home is called the "Eco-cube." At 10 feet cubed, it's still sizeable enough to hold a small living room, dining area, kitchen, washer and dryer, a closet, full shower, toilet, and full-sized bed.
It was designed by Dr. Mike Page of the University of Hertfordshire and founder of the Cube Project, an initiative created to prove that a person could "live a comfortable, modern existence with a minimum impact on the environment." With solar panels, the Eco-cube can earn you $1,600 a year through the UK's feed-in tariff.
This Manhattan studio measures just 90 square feet.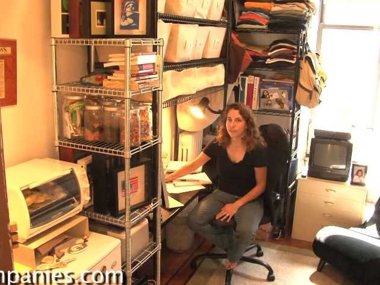 kirstendirksen via YouTube
Size: 90 sq. ft.
Location: New York, NY
Felice Cohen pays just over $700 for her 90-square-foot micro studio in Manhattan, where a studio could typically rent for an average of $2,569 per month.
Cohen, who is a writer and professional organizer, has made efficient use of the space with high, narrow storage units and a lofted bed that is just 23 inches down from the ceiling. The studio has no true kitchen, but Cohen has a toaster oven and mini fridge, which she restocks a couple of times a week.
The bathroom, surprisingly, is a decent size.
This 89-square-foot home has an "entertainment area," a kitchen, and even a fireplace.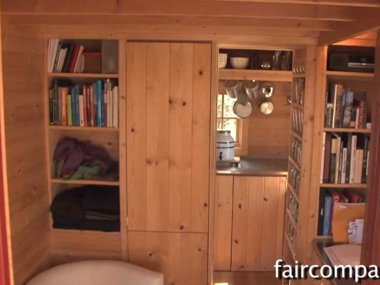 screenshot via YouTube/Fair Companies
Size: 89 sq. ft.
Location: Sebastopol, Calif.
Jay Shafer is the founder of the Tumbleweed Tiny House Company, which constructs small homes ranging from 65 to 874 square feet.
Shafer's own tiny house, at 89 square feet, has an "entertainment area," a kitchen with plumbing, a working fireplace, shower and toilet, lofted bed, and shelves on almost every wall.
This 84-square-foot home cost just $10,000 to build, and even less to maintain.


radley87 via YouTube
Size: 84 sq. ft.
Location: Olympia, Wash.
Dee Williams returned from an eye-opening trip to Guatemala and decided to downsize her home from 1,500 square feet to just 84 square feet. She moved out of her big house, built a small one from scratch, and parked it in her friend's backyard.
This home, which she calls "The Little House," cost about $10,000 to build, and even less to maintain. With a propane tank for heat and solar panels for electricity, Williams pays very little to live there.
This 80-square-foot home was listed for an incredible $145,000.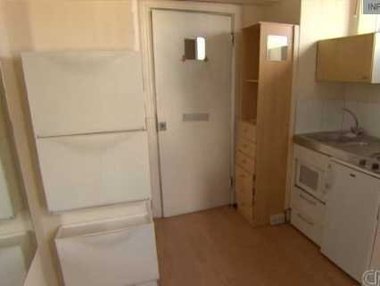 via CNN Money
Size: 80 sq. ft.
Location: London, England, UK
The 8-by-10-foot London apartment is in a prime location right near the famous Harrod's department store on Brompton Road.
The location may account for the steep price: The flat was originally on sale for $145,000, but more than a dozen offers were made on the tiny pad. One person was even willing to pay $280,000, according to CNN Money.
Famed architect Renzo Piano jumped into the tiny homes business with these 79-square-foot German models.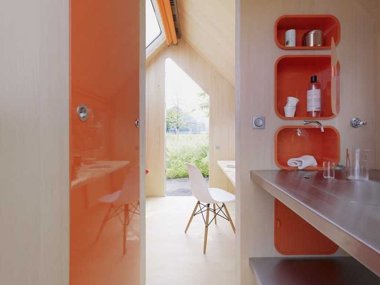 Ariel Huber for Vitra
Size: About 79 sq. ft.
Location: Weil am Rhein, Germany
Best known for Manhattan's New York Times Building, London's The Shard, and the Paris' Pompidou Museum, now Piano is turning his attention to the tiny details — specifically, to "Diogene," a tiny house prototype built for German furniture company Vitra.
The house, constructed of wood and aluminum paneling, collects, cleans, and reuses water; it also supplies its own power, and features photovoltaic cells and solar modules, a rainwater tank, a biological toilet, and natural ventilation.
The owner of this 75-square-foot house in Rome rents the space to friends and tourists.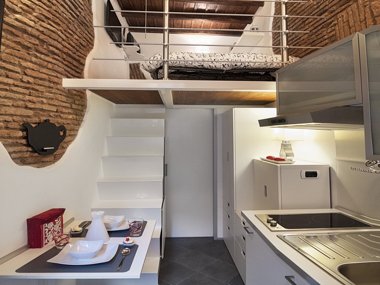 Photo by Matteo Rossi
Size: 75 sq. ft.
Location: Rome, Italy
Architect and designer Marco Pierazzi saw the potential in an abandoned, one-room alleyway house just steps from Roman landmarks like the Pantheon and Saint Peter's Square. He bought it, fixed it up, and lived there with his wife until their child was born.
While it's not commercially available, Pierazzi now rents what he calls the "smallest house in Italy," making it a convenient place to stay on a Roman holiday. All the comforts of home, the little house has a full kitchen, a bathroom with a shower, a small lofted sofa bed, and an LED TV with Hi-Fi sound system.
This 60-square-foot home is the smallest house in the UK.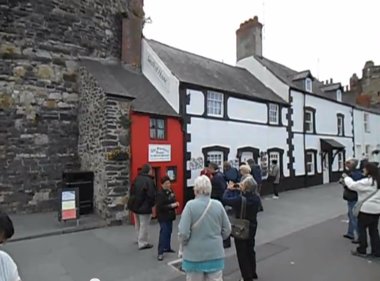 mel vyn via YouTube
Size: 60 sq. ft.
Location: Conwy, Wales, UK
Also known as the Quay House, this tiny red home, which measures just 10 feet by 6 feet, is known as the smallest house in the U.K., and has actually become a tourist attraction in Conwy, Wales.
The home has been occupied by various people since the 16th century, including a 6-foot-3-inch fisherman. The house has room for a stove, water tap, bed, and bedside storage.
China is building 50-square-foot apartments which are meant for two people.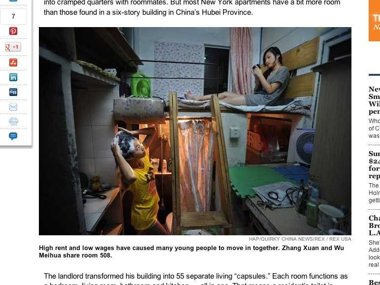 screenshot via New York Daily News
Size: 50 sq. ft.
Location: Wuhan, China
In the city of Wuhan, China, where housing is getting more and more difficult to come by, the city is building 50-square-foot "capsule" apartments which are meant to be shared by two people.
One six-story building in China's Hubei Province has been divided into 55 separate capsules, each of which functions simultaneously as a bedroom, living room, bathroom and kitchen. The apartments primarily house young adults recently out of college who are un- or underemployed.
This 5-foot-wide home in Poland is possibly the skinniest apartment in the world.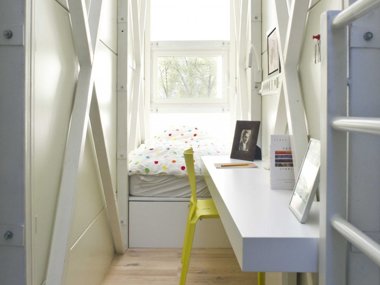 Photographed by Bartek Warzecha
Size: 46 sq. ft.
Location: Warsaw, Poland
This 46-square-foot apartment in Warsaw, Poland, is just five feet wide, possibly making it the skinniest apartment in the world.
Polish architect Jakub Szczesny sandwiched the tiny home, called "Keret House," in an alley between two other buildings. With no windows, a microscopic fridge, and a shower that aims almost directly over the toilet, this place is as small as they come. The kitchen table has room for two chairs, and the fridge has room for just two sodas.
This small home in China is built on top of a tricycle.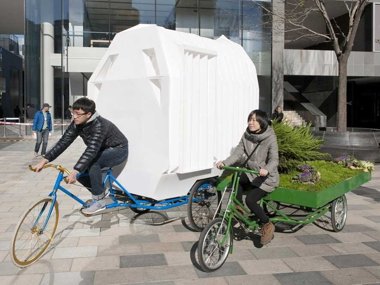 Courtesy of the People's Architecture Office
Size: About 33 sq. ft. when folded
Location: Beijing, China
Beijing's People's Architecture Office and People's Industrial Design Office designed and built a polypropylene mobile home so small that it can be folded up, accordion-style, and carted around on the back of a tricycle.
The expandable home can attach to others for more space, or to portable gardens to give the appearance of a "yard." Facilities in the house include a sink, stove, bathtub, and water tank. All the furniture is convertible: The bed becomes a dining table, the countertop becomes a bench for seating, and it can all fold up into the front wall.
This 15-square-foot bike camper home was designed to be a residence for the Burning Man Festival.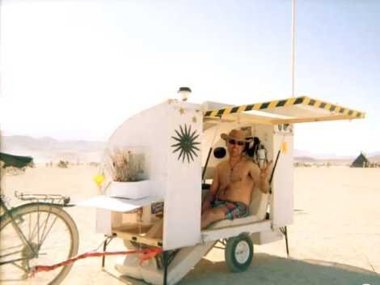 Paul Elkins via YouTube
Size: About 15 sq. ft.
Location: Black Rock Desert, Nev.
Designer Paul Elkins needed a convenient and eco-friendly way to get around during the Burning Man Festival, so he designed a wind turbine-powered bicycle camper that functions as a bedroom, living room, and kitchen. It's even equipped with a solar-powered oven.
As for the bathroom, you'll have to resort to the great outdoors for that.
This 11-square-foot home in Berlin is dubbed the "world's smallest house."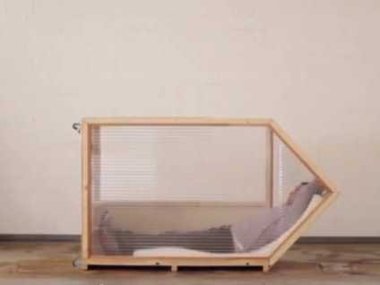 CNN via YouTube
Size: 11 sq. ft.
Location: Berlin, Germany
Architect Van Bo Le-Mentzal built a one-square-meter (11-square-foot) house which is light enough to pull on its wheels, and provides just enough room to sit or lie down and sleep (but only when tilted on its side).
Le-Mentzal says he designed the structure not as a way to address homelessness or create a new kind of emergency shelter, but as a thought experiment to make people think about the way they define the concept of "home."
However, that hasn't stopped governments and private citizens all over the world from contacting him about the plans.
Chris And Malissa Tack's Tiny Home Transformed This High-Tech Couple Into Simple-Living Converts

By: Michelle Manetti
January 7, 2013

Although living tiny is a unique way of life, there is a wide variety of people who choose to do it. And surprisingly, in this community, you can find some unlikely converts, such as Chris and Malissa Tack. For this couple, simply hearing about the movement from tiny home enthusiasts encouraged them to trade in their busy, technologically advanced lifestyles to try out something new.
Before the husband and wife built their very own 140-square-foot tiny home near Seattle, Washington, both worked in high-tech fields. He was a "lead creative" for Apple, Inc. and she a 3-D artist with a focus on animation. And although their careers are still technologically focused, they decided to ditch this high-tech mindset in their personal lives when he learned about tiny homes from a customer at his store and shared the idea with his wife. "I barely had walked in the door when her excitement came bursting out," he said.
She then started to create mockup blueprints of possible living spaces. They decided they would begin the process once they had money, so the two moved forward with the plans by taking out loans and using their vehicles as collateral. But getting the means to fund their dream wasn't the hardest part. Like many tiny home dwellers, the Tacks were determine to build their own abode by hand but had minimal combined construction experience. So they took to the internet to read blog posts from tiny home owners and watched YouTube videos to learn specific processes such as installing windows.
Six months later they were reaping the benefits of their new home, especially after Tack lost his job just seven months later. Since small living is relatively inexpensive, their overhead costs were low and the home will actually be paid in-full in just two or three years. "Without the substantially lower cost of living, we would be struggling financially," Chris Tack said.
The couple has even become more polite to each other since living small. "We have definitely learned the importance of respecting space; for instance saying 'excuse me' when passing each other in the kitchen," he said. The positive experience has made them open to living small "indefinitely." And in true tiny home owner fashion, they look forward to spreading the word about this style of living. "If you think differently and embrace the non-traditional, you can come up with some pretty amazing game changing possibilities," he said.