The current recovery has been anemic, not just economically but in terms of new office construction as well. Long term, the lack of new buildings is good as overbuilding is not a concern. With the emergence of millennials in the work force and live/work/play environments,  suburban office markets have been even slower to recover. As the Central Business District (CBD) submarkets continue to tighten, developers are now looking more and more to the suburbs.
 
–       Housing-bust metros (including Phoenix) still lag from normal pre-recession levels. (However, this is finally changing in Phoenix.)
–       Pent-Up suburban office space development is becoming a hot commodity as speculative development in the suburbs has lagged and CBD rents rise as space becomes scarce.
–       The rent premium a tenant will pay for a brand-new building is substantially higher than current rents. We will see if tenants will pay up for new.
 
Metro Phoenix is an interesting market.  We have Live/Work/Play in several submarkets creating opportunities for tenants to shop the market and really focus in on their needs (employee demographics, access, amenities, etc.).  Let me know if you want to discuss this further.
Craig
602.954.3762
P.S.- Find out who is more aggressive, Craig or Andrew, in this week's video with Michael Kosta. Click here to watch.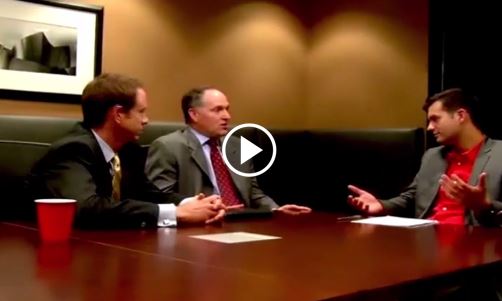 ---
Office Developers Size Up Suburban Markets for Spec Development
Major CBD Office Markets Still Where Most of the Action Is, but Suburbs are Getting a Second Look Amid Dearth of Large Blocks of Space
By Randyl Drummer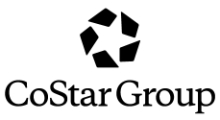 September 29, 2016
With construction cranes crowding the downtown skylines in the San Francisco Bay Area, New York City, Seattle and other large CBDs, office developers and investors may do well to branch out into markets and submarkets where competition with other projects isn't so keen and the barriers to entry aren't as daunting. "There are many markets out there that are late-recovery plays offering significant rent upside and limited risk from new construction," said Walter Page, director of research, office, CoStar Portfolio Strategy, during a webinar presentation titled "From the Ground Up: Late-Cycle Development Strategies," presented with Hans Nordby, managing director of CoStar Portfolio Strategy, and managing consultant Lee Everett. 
Certain downtown and suburban submarkets within former housing-bust metros such as Sacramento, Phoenix, Orange County, the East Bay of San Francisco and even the San Fernando Valley submarket in Los Angeles are still only seeing a fraction of their pre-recession construction levels. Tampa, Atlanta, Austin, Miami, Washington, DC; and Boston continue to lag below historical norms for new supply.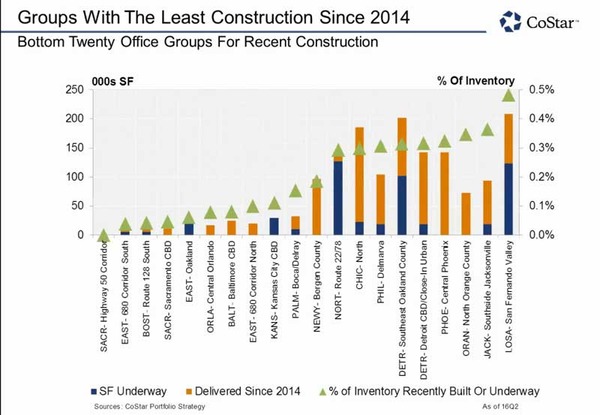 While developers haven't been building at the feverish clip of the previous cycle, the uptick in interest in development among core and value-add funds, plan sponsors and foreign investors, especially from China, has been tangible in the first three quarters of 2016. 
"Never before have we seen such a diversity of our clients interested in either building development or lending on that construction," Nordby said. 
The long office supply lag in these late-recovering metros could finally bring development opportunities in the submarkets of such secondary markets such as downtown Milwaukee and suburban Tampa, the CoStar analysts said. 
"If you're looking to build, it may not be as bad a time to start now as you may think," Nordby said, citing investment sales, rent growth and occupancy growth in many markets which in many cases exceeds their historical averages since 2000. 
Overall U.S. office supply addition has been muted throughout the recovery. Despite pockets of strong building in Silicon Valley, San Francisco, New York, Seattle, Dallas and a few other top markets, total projects under construction currently make up just 1.5% of U.S. office inventory, well below historical trends, with just 36% of metros seeing more new office space entering inventory than their long-term averages. 
In fact, overall office construction, which has remained flat for more than 18 months, now appears to trending down, Nordby said. By comparison, 79% of metros currently have apartment construction levels above their average since 2000. 
Pent-Up Suburban Demand Could Bring Opportunity
At the same time, the share of U.S. office construction projects in downtown districts versus suburbs is picking up significantly, currently at 38% of all office construction. Suburban office development has fallen in recent quarters, now totaling about half the 250 million square feet under construction in the suburbs at its peak in 2000. 
With brisk levels of office construction already underway in the top coastal markets and CBDs, this slowdown in suburb supply may be a window of opportunities for well-informed and savvy developers. 
Suburban markets such as Tampa and West Portland, OR, are looking like an increasingly good bet for investors based on rising occupancy, lower rents, pricing upside and the virtual absence of construction compared with history. 
Suburban office product is also getting more sophisticated based on tenant feedback. Version 2.0 of the suburban office park includes single-tenant office buildings outfitted with larger, more open floorplates and higher parking ratios. For example, a 150,000-square-foot building developed for GoDaddy in Tempe, AZ, has a whopping 6.7 parking ratio for its 1,350 employees, who are occupying fewer square feet per work and enjoying perks such as a yoga room and indoor go-cart track. 
Spec Resurfaces In Suburbs
Investors are taking their next step into speculative development since the recession in markets with a growing shortage of available space for large tenants. For example, in Tampa, Vision Properties — which in February acquired Renaissance Park, a five-building, 573,053-square-foot master-planned suburban corporate office campus north of Tampa International Airport — vowed eight months ago to consider developing an office building on a four-acre vacant site in its new acquisition without a tenant in tow. 
Vision plans to make good on that vow in November, breaking ground on a three-story, 111,600-square-foot building in the master-planned office campus, acquired for $100 million from Liberty Property Trust. Mountain Lakes, NJ-based Vision has already secured site work permit and applied for a building permit on Tuesday. Construction is expected to take just 12 months. 
Many relocating firms are warming up to secondary Sunbelt markets such as Tampa and Charlotte, and expanding in those metros grow attached to the benefits of lower labor, tax and business costs, including Fortune 500 companies such as Johnson & Johnson, Bristol-Myers Squibb and Citigroup, Will Bertolero, vice president of asset management for Vision Properties, tells CoStar. 
"Even tenants within our own park were skeptical and a bit shocked when we decided to go spec," Bertolero said. 
"With the lack of large contiguous blocks of space in the market with structured parking, right now is the prime time to move forward." 
Vision has received many inquiries for requirements of between 30,000 to 50,000 square feet and one prospective tenant may even take around 100,000 square feet, the vast majority of the building, Bertolero added. 
CoStar's Page noted that spec makes a lot of sense in Tampa, a market generally oriented toward smaller tenants where it's more difficult to reach the 40% or 50% pre-leasing to begin construction as might be required to construction in larger CBDs. 
"The time is right to do this as construction activity is exceptionally low," Page said. "We are finding that the rent premium a tenant will pay for a brand-new building is higher than most investors realize."