For the past 30 years we have been analyzing operating expenses for the tenants we represent. It's vital for tenants to understand how operating expenses work because this is a huge potential long term and expensive hidden cost.
Here are a few items to watch out for in a tenant lease:
–Not getting a grossed up and approximate base year at the time of your lease negotiations.
–Annually monitoring pass through common area maintenance (CAM) reconciliations.
–Analyzing controllable expenses.
We do all this for our clients. Below is a quick summary graph and an additional link to the complete report of Metro Phoenix office expenses. We have partnered with Bob Knight of Knight Management on this project since 1991. Some 2015 key findings are:
1-Overall expenses peaked in 2008. Today they sit just 7% below that peak and are climbing.
2-Real estate taxes today are 80% of what they were in the 2008 peak, and similar to 2002 levels.
3-Since this report began, Repairs and Maintenance have increased the most (2013 was 4x the amount of 1977) while other line items have experienced more gradual increases.
Over the next month, you will be receiving your "cam rec" notice. If you want our team to review it to make sure you are in line with your lease and particular submarket, give me a call or email.
Andrew
602.954.3769
acheney@leearizona.com
---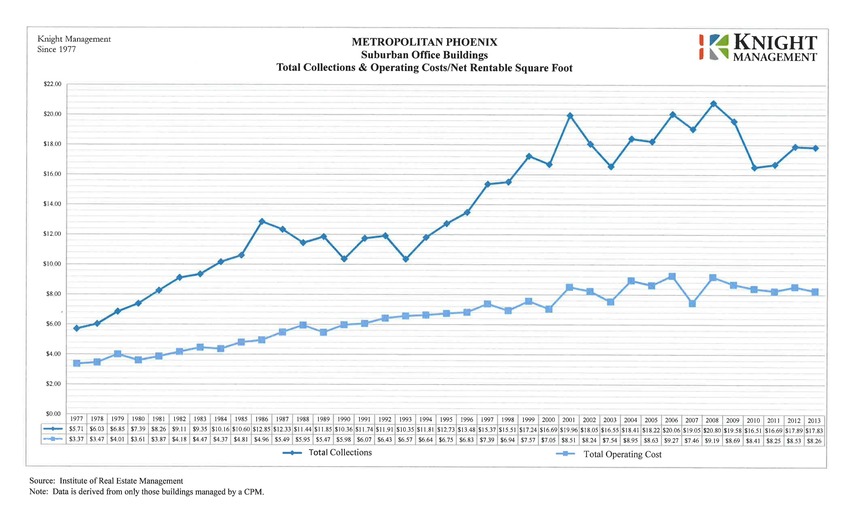 Click here for the entire report.