I just got a peek at our Q2, 2015 Metro Phoenix office numbers and once again we are mirroring the national office market. It's a methodical and frustratingly-slow recovery. Andrew will highlight Phoenix in the next few weeks, but today I am focusing on the National office market. Below is a nice Wall Street Journal update on the national office market with a few highlights.
If you are in Seattle, Silicon Valley, and Washington DC—enjoy the roll. For the rest of us—Conquer the Grind.
If you want to know how we Conquer the Grind, give me call or shoot me an e-mail.
Craig
602.954.3762
ccoppola@leearizona.com
P.S. I recently did an interview with Joe Fairless who runs a podcast called The Best Real Estate Investing Advice Ever. Here it is if you want to listen: http://joefairless.com/blog/podcast/jf209-one-expense-everybody-underestimates-when-buying-office-buildings/   Not only have I been a guest on the show, but I enjoy listening as well. He has numerous big name guests that provide a wide perspective on investing in real estate, including advice from my friend and partner, Robert Kiyosaki, Author of Rich Dad. Poor Dad. If you are interested in more, click here to check it out:http://joefairless.com/blog/
---
Office Market Is on a Slow Roll
Increase in office space was strong in second quarter but a relatively modest expansion by historical standards

By: Eliot Brown
Updated July 1, 2015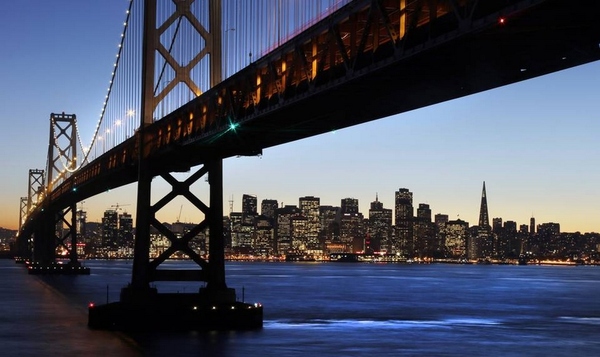 The skyline in San Francisco, where rents rose 6.3% over the past 12 months, second only to Seattle, at 7.2%.
PHOTO: MARCIO JOSE SANCHEZ/ASSOCIATED PRESS
U.S. office buildings are filling up—gradually.
Employers took on 8.2 million square feet of additional office space in the second quarter, marking one of the stronger periods since the recession but a relatively modest expansion by historical standards, according to real-estate research service Reis Inc.
The increase left the overall office vacancy rate flat for the quarter at 16.6%, which is just a nudge down from the peak of 17.6% reached in 2010, according to Reis, which tracks 79 markets. Rents rose to an average of $24.60 a square foot, up 3.2% over the past 12 months.
"I don't think we're in the clear yet, but we are definitely heading in the right direction," said Ryan Severino, an economist at Reis. "It has taken a little bit longer than usual to get back to where we'd like to be."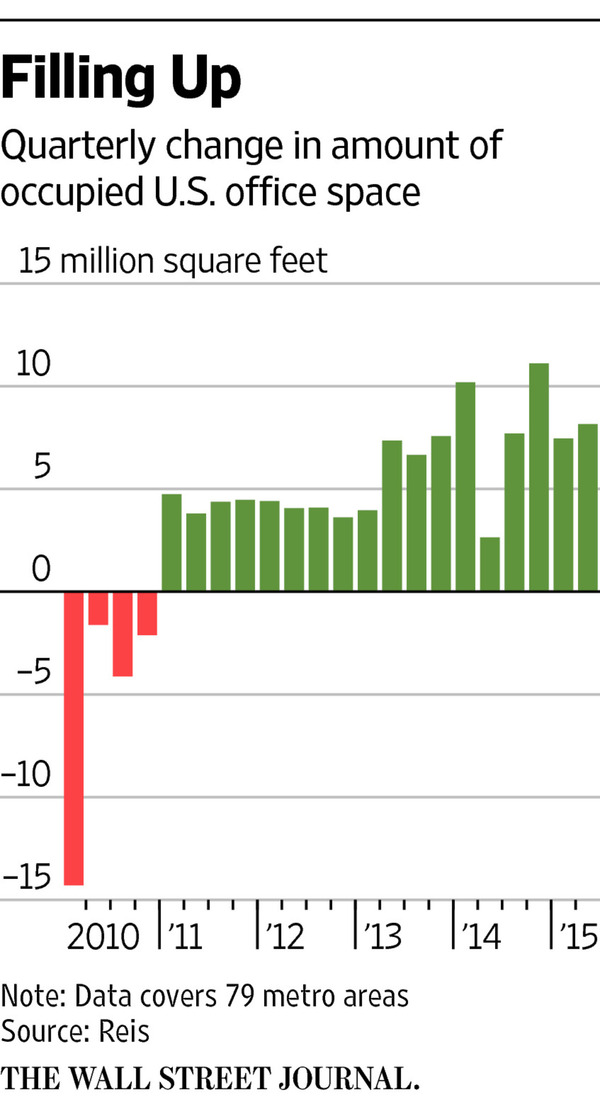 The overall picture of still-sluggish growth stands in contrast to some other economic indicators, such as job growth. While the U.S. recovered to its prerecession employment level a year ago, employers occupy about 36 million square feet less than they did at the peak in 2007. That is about a year's worth of growth at the current rate, although it could disappear faster if the pace picked up. From 2005 through 2007, for instance, the amount of occupied office space increased by an average of 14.9 million square feet a quarter.
Analysts cite different reasons for the sluggish recovery in the office market. Many believe the biggest factor is that employers are pushing into denser spaces, jettisoning private offices and large cubicles for a cozier layout. Others believe employers simply have been more cautious about expanding in this cycle.
By and large, though, the office market is a patchy one, highly dependent on the strength of local economies.
Leading the way in terms of rent and occupancy growth are regions driven by the technology sector. The Seattle area registered as the strongest in terms of rent growth over the past 12 months, with rents rising 7.2% to $26.84 a square foot, including landlord concessions. Seattle was followed by the San Francisco area, where rents rose 6.3% to $40.18 a square foot, and the San Jose area, where they increased 5.9% to $28.28 a square foot.
In all those markets, falling vacancy rates and fast-expanding companies have led to a race for space, tilting the scales heavily in favor of landlords.
Take the five-year-old education technology startup Udemy Inc., which offers online courses in a wide range of topics taught by contributors to the site. The company last month signed a lease to move to a 40,000-square-foot office in San Francisco, which would mark its fourth move since the start of 2014, when it occupied just 4,500 square feet.
"It seems like every time we sign something, the prices go up," said Dennis Yang, the company's chief executive. "You're a price taker, you're not a bidder." He said the lease is more than $60 a square foot, at least double what the company had paid a few years back.
The mood is more relaxed elsewhere in the country, as cities generally are experiencing slow and steady growth in rents and occupancies.
One exception is Houston, which is facing a drop in demand thanks to the fall in oil prices as well as a surge in supply from builders that started towers when the price of crude was higher.
The vacancy rate climbed to 15.6% in the second quarter, up from 14.4% a year earlier.
"It's a really bad one-two punch right now," Mr. Severino said. "For the next 12 to 18 months or so, it's definitely going to be a little bit dicey there."
---