Some of the best entrepreneurs in the United States live right here in Arizona. Instead of sharing an article this week, I thought you would enjoy a video getting inside the minds of some successful businesspeople, like my business partner Craig Coppola.   
"INSPIRE: Stories of the American Dream in Arizona" was created by The Arizona Corporation Commission to showcase some of the state's best entrepreneurs, and how they achieved success. From the NBA to real estate to restaurants, there are great lessons here you can apply toward any business.  Continuous education is a huge part of our team's culture and you can take a few minutes to learn something from these first-class professionals.
The video link below is an in-depth interview with my partner Craig, who happens to be the top-performing broker in Lee & Associates' history (55 offices across the U.S). He does not disappoint!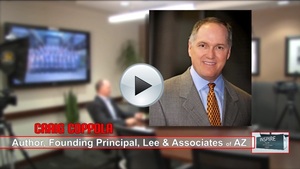 Click Here to view the video
Whether you are an entrepreneur or not, please feel free to call me if you have questions on how real estate affects your business.

602.954.3769
acheney@leearizona.com
P.S.- For a brief overview of the series, check out the video below, which includes clips from 10 of Arizona's top entrepreneurs, including Jerry Colangelo, Robert Kiyosaki, and more. Click here to view the video.