I am always on the lookout for new trends in the Commercial Office market and potential side effects/tangents. You may recall in a previous narratives my ongoing discussion about "open plan" office space. Since I was one of eight founders of Lee & Associates Arizona in 1991, we have worked in this type of environment. We are very familiar with the pluses and minuses. An "open plan" can definitely provide a positive environment for collaboration and free flowing communication, but for those that don't thrive in such an environment the below article shows how creative employees and employers are overcoming this obstacle with head phones. I use a headset with one ear piece, but in the past I have used one with two for noise reduction and focus. With the Beats sale to Apple, maybe there is market share here.
 
As usual I have highlighted the key points below.
 
I  must admit, from time to time I keep my phone headset on to "close my door" when it's time to grind.
Craig
602.954.3762
ccoppola@leearizona.com
P.S. A few months back we discussed the rebuilding of the World Trade Center buildings. The last article is an update for those interested. The market is slow and rents are being forced to drop at the One Trade Center.
---
What It Means to Wear Headphones at Work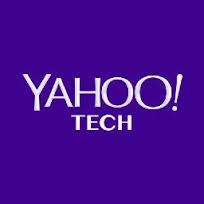 By: Rob Walker
May 14, 2014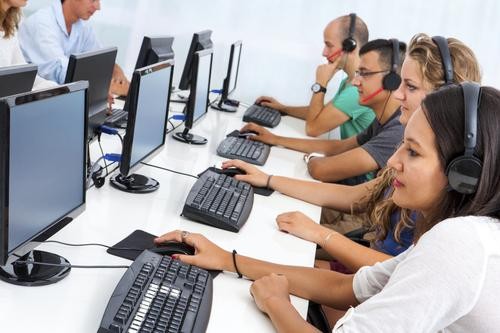 Nobody seems to agree just why Apple is buying Beats, as is rumored to be happening soon, to the tune of $3.2 billion. But given that Beats is primarily known for its line of conspicuously branded headphones, now seems a good time to consider why headphones have become so monumentally valuable.
Generally the rising interest in headphones is discussed as a side effect of the rise of smartphones, tablets, and MP3 players: We're entertaining ourselves in public more frequently, from the kids enveloped in games in the back seat to the subway commuter lost in the new Black Keys album.
I think there's another, less diversionary factor: Thanks to the rise of the so-called "open plan" office, an even less-private evolution of the familiar cubicle farm, headphones aren't just a handy way to make a commute more tolerable. They're necessary office equipment.
Headphones aren't just the new hat – they're the new walls.
The value of Crayola-splat styling
I reached out to a variety of open-plan-office denizens, from head honchos on down, to see how the evolution of headphone form and function is playing out in the workplace.
Turns out that at SoundCloud, the audio platform, headphones areliterally standard office equipment: Every employee gets a pair of Urbanears headphones in her new-hire onboarding kit. "They're nice because they're all different colors and also extremely visible," explains Diana Kimball, who works in the firm's Berlin headquarters, "so you can tell when someone is 'head-down' or 'open to conversation,' based on whether they have a Crayola splat on their heads." 
SoundClouders can swap these for Urbanears in-ear models, and many opt to use their own headphones or earbuds. (Kimball uses an in-ear Sony set.) "Headphones with mics in the cord are considered essential," she adds, "because we spend so much time on Skype and Google Hangouts."
RealNetworks' Seattle headquarters used to be mostly offices, but in the fall the company moved into a space that's almost entirely open plan.
"When I walk the halls now I see way more headphones, for obvious reasons," says founder and Chairman Rob Glaser, the tech-audio pioneer. No single brand seems to dominate, but there are far more over-ear headphones than ear buds.
Still, he adds: "I think it's more of a functional reality than a fashion statement; people want/need to isolate when they want to concentrate in an open-plan environment."  

An open office plan
Maybe so. But plenty of office workers seem to be aware of the big headphone brands, and what they signify — even if they're a little shy about discussing the matter on the record. One employee in an open-office scenario told me he uses a Skullcandy set: "It felt young/skater-ish, which I'm decidedly not, but they were cheap at Radio Shack down the street." He picked a model with black-on-black styling, making the logo as obscure as possible.
That's not a fashion statement; it's a plea for privacy.
Headphones are the new door
And what about Beats? The brand has made a fortune recognizing, exploiting, and accelerating the idea that what's on the exterior of a set of headphones can mean as much to mainstream consumers as what's flowing through the interior (and into your ears). But it wasn't popular in the offices of my various informants.
That may be precisely because Beats, more than almost any of its rivals, has established such a powerful brand (by way of its many celebrity endorsements and aggressive marketing) that its meaning is just too specific. As one person I heard from put it, Beats are associated with high-school kids influenced by Lebron James and Dr. Dre, and with young Wall Streeters for whom it's basically "just a conspicuous consumption thing."
Actually, Beats' domination of the high-end headphone market is even more stunning when you fully appreciate the degree to which audiophiles roundly dismiss its actual quality as a listening device. But this just speaks to the cleverness of founder Jimmy Iovine's original insight: "Apple was selling $400 iPods with $1 earbuds," as he has put it. Aside from dissing their quality, this suggests that as crucial as the white default earbuds were to the iPod's rise, there was, eventually, something just plain unserious about them.
So while a typical office worker may not want to signal fashionability, there's still more to office headphones than the pure function of blotting out distracting noise.
"The thing I love about headphones," another open-plan denizen (and Skullcandy-wearer) told me via email, is that they are "a visual signifier that I AM WORKING AND THIS BETTER BE IMPORTANT IF YOU ARE GOING TO COME OVER HERE AND TALK TO ME. Like I imagine it might work if I had an office and could close the door."
In fact, maybe that's what distinguishes the perfect visual signal that workplace headphones can send: "I'm busy; I'm serious about what I'm listening to. These headphones aren't just walls; they're a door. And it's closed."
Office Rents Cut at One World Trade
The Tallest Tower at the World Trade Center Is 55% Leased


By: Eliot Brown
May 27, 2014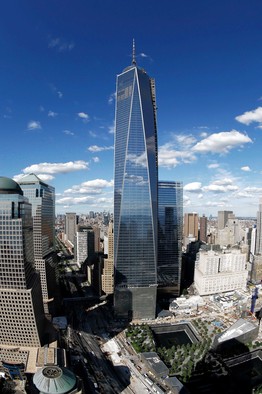 Slow leasing has led to rent cuts at One World Trade Center, pictured in September 2013. Associated Press
The owners of the tallest tower at the World Trade Center are cutting office rents just months before it opens because of slow leasing activity.
Only one private tenant has signed a lease at One World Trade Center in nearly three years: a one-floor deal with advertising firm Kids Creative that was signed last week. The 3.1-million-square-foot skyscraper, formerly named the Freedom Tower, is 55% leased.
The owner—a venture of developer Douglas Durst and the Port Authority of New York and New Jersey—is cutting asking rents nearly 10% to $69 a square foot for larger tenants on the building's middle floors, down from $75 a square foot, Mr. Durst said in an interview Friday.
"The market's not there," said Mr. Durst, whose Durst Organization bought a stake in the tower from the Port Authority in mid-2011. "When we started in 2011, everybody expected the economy to take off, and obviously that hasn't happened."
The move adds to the financial challenges for the 1,776-foot building that is set to open its doors by the end of the year. With a construction cost of $3.9 billion, it is set to be the most expensive office tower ever built and has little hope of proving to be a good financial investment in the short term.
To be sure, parts of the downtown office-leasing market have seen increased deal activity recently. Time Inc. last week said it would move from Midtown to take 700,000 square feet at Brookfield Place, the former World Financial Center. Bank of New York Mellon Corp., which considered One World Trade, is in negotiations for more than 400,000 square feet at Brookfield Place, according to people familiar with the matter.
But Mr. Durst said the other large deals downtown were in the $50s a square foot, making it difficult to compete. Downtown average rents sought by top-quality buildings were $53.87 in the first quarter, according to real-estate services firm Cushman & Wakefield Inc.
"We have a lot of people looking at the space, but because of the asking rent, we are not able to really put anything over the finish line," Mr. Durst said.
The rent at One World Trade is being cut amid a debate over how much more office space should be developed at the 16-acre site.
Developer Larry Silverstein, who has built one tower on the 16-acre site and has the rights to build two more, wants to start construction on his second tower and has asked the Port Authority to modify a prior aid package and guarantee $1.2 billion in debt on the planned 2.5-million-square-foot 3 World Trade Center.
Despite support from the Port Authority's staff, the measure hit resistance from multiple members of the agency's board of directors wary of making more bets on real-estate development, particularly when leasing at the site thus far has been slow. Some real-estate executives, including Mr. Durst, also have criticized the modification.
The Port Authority board is scheduled to vote on the proposal on Wednesday. In recent weeks, agency officials have reworked the modification to increase potential payments to the agency.
It now is less risky for the Port Authority, according to Scott Rechler, the agency's vice chairman who has pushed the deal.
But the commissioner who has been most critical of the plan, Kenneth Lipper, said he thinks it won't have enough support to pass. "I believe it will be formally defeated," he said.
One World Trade's leasing troubles echo the early years of the original World Trade Center. With 10 million square feet of space, the Twin Towers struggled for years with slow leasing, renting significant chunks of the buildings to government agencies.
The rebuilding of the towers that were destroyed in the Sept. 11, 2001, terrorist attacks has been more gradual. Mr. Silverstein in 2006 built 7 World Trade Center, a 1.7 million-square-foot tower across the street from the main complex, which is now fully leased.
The next two buildings to start were One World Trade and Mr. Silverstein's 4 World Trade, a 2.3 million-square-foot tower that opened last fall.
But leasing has been slow. One World Trade has one major private tenant, Condé Nast, which took about 1 million square feet in 2011. Meanwhile, 4 World Trade is 51% leased to two government agencies. Mr. Silverstein has been asking in the $70s and $80s a square foot, comparable to the rents at One World Trade, before the latest price cut.
Mr. Silverstein and other downtown boosters have said they believe rents and occupancies are likely to rise in coming years downtown. They point out that many tenants prefer modern, newly constructed towers, of which there are few in lower Manhattan, and they are willing to pay a premium to be there.
At 4 World Trade, Mr. Silverstein is in negotiations with advertising company MediaMath for more than 100,000 square feet at rents above $70 a square foot, according to a person familiar with the matter.
Mr. Silverstein also recently signed a 515,000-square-foot lease for 3 World Trade with advertising firm GroupM for an undisclosed rent. That deal isn't big enough to enable him to secure private financing, which is why he wants to rework his aid package with the Port Authority.
Another possible obstacle for office leasing at the World Trade Center, particularly the towering One World Trade: security concerns. Port Authority officials have long worried the history of the terrorist attacks could damp demand.
But Mr. Durst said he doesn't believe safety concerns are an issue. "We really have not seen that," he said, calling it "the safest building in the U.S."