Open office design, benching, and cool space layout have been topics we have discussed over the past few years. Below is a very interesting article on the start of the open office space movement and why it failed miserably. Today, we are seeing open office layouts in over 70 percent of new space designs. That does not mean the C-Suite officers have given up their offices. Not yet. But some are trying—see below. Also, I wanted to add two takeaways for you from the article:
1—The newest buzzword—you heard it here first: "activity-based working" or ABW. This basically means people are more productive when they get to choose where they work.
2—Changing to a complete open office is not easy nor fully vetted. People start picking the same spot each day or they take over the quiet room and make it their office. The trend is still in its infancy stages.
You can read the complete article below or just my yellow highlights. Stay tuned as we monitor the office space trends for you. Better yet, hire us to represent you on your next lease.
Craig
602.954.3762
ccoppola@leearizona.com
---
Cozy in Your Cubicle? An Office Design Alternative May Improve Efficiency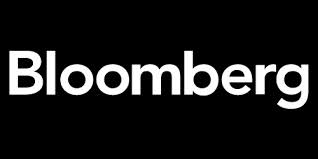 By: Belinda Lanks
September 18, 2014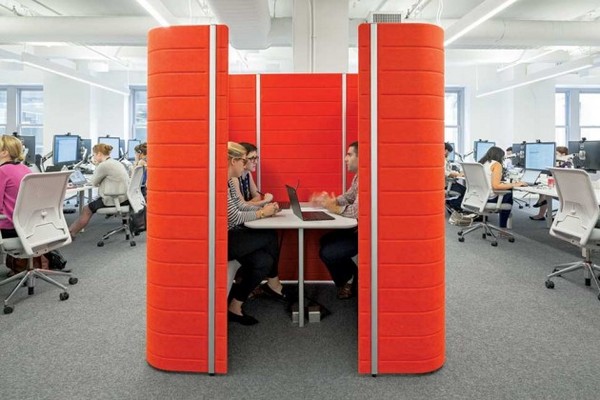 Photograph by Adam Friedberg for Bloomberg Businessweek
In 1993, Jay Chiat had an epiphany while skiing in Telluride, Colo. The adman who created Apple's (AAPL) memorable "1984" TV commercial thought it was time to "think different" about his own office: Chiat believed the workplace had become as static as an elementary school, with people only leaving their desks for lunch and for trips to the bathroom. He wanted his office to be more like a university campus.
 
When he returned to his agency, Chiat/Day, in Los Angeles, Chiat announced he was banishing job titles, workstations, landlines, and desktop computers. Employees could work from home, visiting the office anytime for client and team meetings. But when they did come, they'd have to store their personal items in a locker and sign out company-owned laptops and cell phones.
The experiment was an unequivocal failure. For starters, there weren't enough computers and cell phones to go around. "You had people coming to work to get on line just to get their supplies to do their job," recalls Bob Kuperman, then president and chief executive officer at Chiat/Day's Los Angeles office. Because the lockers were too small to hold much paper, some staffers resorted to using the trunks of their cars as filing cabinets. Others started playing hooky. Chiat, who passed away in 2002, "was way ahead of his time," says Clive Wilkinson, the architect who designed a new office for the agency after it was sold to Omnicom Group (OMC) in 1995. Too far ahead, he says, noting that the upheaval "placed an appalling burden" on the staff.
 
Chiat's vision of the workplace may finally be having its moment. Wilkinson, who also designed Google's (GOOG)headquarters in Mountain View, Calif., recently completed a 65,000-square-foot office in Midtown Manhattan that has a lot in common with the advertising legend's folly. At Gerson Lehrman Group, all 250 employees are equipped with office-issued laptops and telephone headsets and can choose from a variety of workspaces instead of assigned offices or cubicles. At the end of the day, they store gear in personal lockers.
 
GLG's Headquarters
1 of 4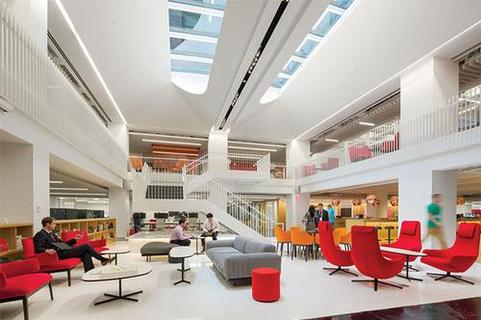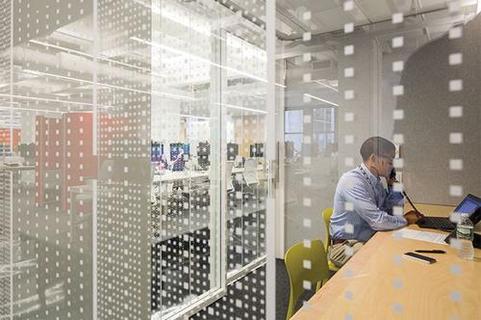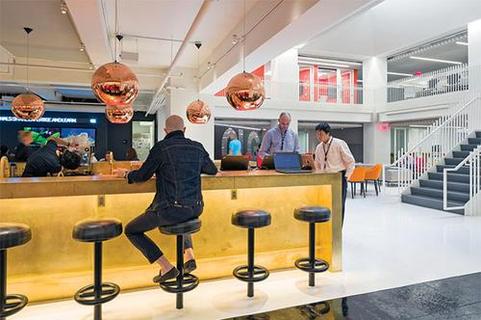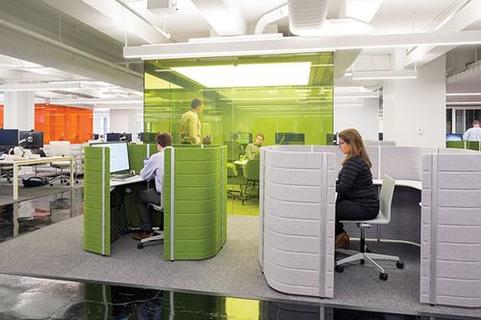 Employees at 15-year-old GLG, which pairs up people from different fields for professional development, begin their day by walking into a sun-splashed atrium furnished with comfy chairs. A barista is on duty at a polished brass coffee bar from 7:30 a.m. to 12:30 p.m. Staff can choose to work wherever they like: the cafe, a traditional or standing desk, a semi-enclosed carrel, or a closed-door booth.
 
The guiding philosophy behind this game of musical chairs is "activity-based working" (ABW), a term coined by Erik Veldhoen, a Dutch consultant and author of the book The Demise of the Office. The consulting firm Veldhoen founded argues that when people are able to choose where to sit, they structure their days more productively. "They are more conscious of what they're going into the office to do and why they're going to do it," says Louis Lhoest, a partner at Veldhoen + Co.
 
Starting in the mid-1990s, ABW began making inroads through Europe and elsewhere. In 2009, Wilkinson—who became acquainted with ABW in 2006 while touring offices in the Netherlands—completed his first ABW project in Australia for theMacquarie Group (MQG:AU), a global financial company based in Sydney. GLG's office is the largest implementation of the concept in the U.S. Proponents argue that ABW isn't a space-saving solution like "hoteling," where workers can reserve workstations in advance, or like "hot desking," where they're free to sit at any available desk. "We have room for 350, but we only have 250 people working for us," says Richard Socarides, GLG's head of public affairs.
 
(Click here for a video from the article online)
 
ABW can be a hard sell. Managers "have to learn to cope with not having people within their line of sight," Lhoest says. Workers may also find it tough to give up a desk of their own. One of the few liberties workers are afforded in Dilbert-style cubicle farms is the freedom to festoon pin boards with images of pets, loved ones, and, yes, Dilbert comic strips. In ABW setups, laptops fill the void; users can summon to their desktop thousands of dog pictures at will. In fact, Wilkinson sees the tendency toward personalizing workstations as a response to bad design. "If you have an exciting work space," he says, "you really don't need to decorate it further." Luc Kamperman, another Veldhoen partner, likens a traditional office to a used Toyota and a well-executed ABW workplace to a Porsche, only "you have to share the keys."
 
To get employees to buy in, GLG allowed each department to appoint representatives to an architectural committee and held town hall meetings. Veldhoen + Co. conducted workshops in preparation for the transition. "You're really asking for trouble if you don't carry your staff along with you," Wilkinson says.
Yves Béhar, the designer responsible for the look of the Jawbone fitness tracker and the SodaStream (SODA) carbonated water dispenser, likes the ABW concept but says his firm, Fuseproject, couldn't function without designated workstations: "We work with mockups and project-based tools, and those have to remain in place overnight." In ABW offices, desks are wiped clean at the end of the day.
 
After a couple of months in the office, a few people at GLG have begun to nest, returning to the same desk each day, and some have co-opted the booths as all-day private offices. Department leaders have tried to set an example by moving around, and management is considering a policy to encourage holdouts to sit in different places. GLG is making a concession for the intensely introverted: a quiet zone where they can retreat from ambient chatter—like the quiet car on Amtrak's Acela commuter train.