Some good news for Arizona job growth (my key indicator for office space net absorption). In November, Forbes projected Arizona to lead the United States in job growth for the next couple years. Traditionally, Arizona has been a boom/bust cyclical state. Readers of this narrative know that this cycle, for the first time, we have not been in the top three in job growth. While we are still in the top 10, the growth has been anemic (for our standards).
So, this article brings good news as we look forward for Arizona. Getting back to robust job growth is a welcome sight.
If your company is expecting rapid growth in the next few years give me a call. We specialize in strategic planning to make sure your space needs are met for years to come.
Craig
602.954.3762
ccoppola@leearizona.com
---
Why Forbes projects Arizona to lead U.S. in job growth
Stefan Modrich, Cronkite News


12:16 p.m. MST November 18, 2015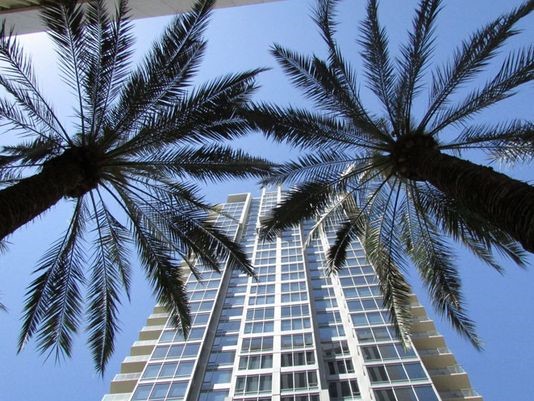 (Photo: Stefan Modrich/Cronkite News)
Forbes Magazine has named Arizona the best state for future job growth, but one local economic expert said the distinction does come with some caveats.
The magazine in October used forecasts from Moody's Analytics to call Arizona one of the "brighter spots in a slumbering U.S. economy thanks in part to renewed migration."
The Moody's report projected a job growth rate of 3.1 percent through 2019.
As the U.S. economy slowly recovers from the Great Recession, experts said Arizona has become a landing spot for expanding businesses because of its skilled workforce, available real estate and diversified economy.
"It's never been a problem getting people to relocate to Arizona," said Lee McPheters, a professor of economics at Arizona State University's W.P. Carey School of Business. "They might very well look at Arizona as a good place to be moving. As a company tries to expand, you can get people to move from the Midwest or from California."
State and local officials recently announced several expansions into the state: Northern Trust Bank, Home Depot and Santander Consumer USA Holdings Inc.
But the Forbes article and McPheters warn that forecasts can change quickly. For example, a blow to a major industry such as tourism in Arizona could significantly change the state's prospects, as could competition from other states.
Development on the upswing
Large companies headquartered in the Midwest and Southeast are expanding in the Valley and bringing plenty of jobs with them.
Chicago-based Northern Trust Bank expects to add 1,000 jobs at its new Tempe operating center by 2018. Home Depot Inc., headquartered in Atlanta, will add about 800 jobs to its Tempe call center in an existing warehouse in 2016. Dallas-based Santander Consumer USA Holdings Inc., a consumer finance firm, plans to hire up to 970 employees at a new facility in Mesa, according to the Greater Phoenix Economic Council.
Even McDonald's plans to hire 2,000 people during a job fair on Wednesday.
Home Depot spokesman Matthew Harrigan said CEO Craig Menear saw the Tempe center as opportunity to build on the company's retail presence in Arizona.
"These investments are advancing our interconnected retail strategy, which allows our customers to engage with Home Depot however they choose," Menear said in a statement. "We're also pleased to contribute to the economic growth of these communities."
In an increasingly service-based economy, Tempe Online Contact Center Director Bill Parhar said large retail stores like Home Depot need to accommodate a growing online customer base.
"Arizona has always done well in attracting call centers," McPheters said.
Companies like General Motors, which opened an IT center in Chandler in September 2014, are bringing higher-wage jobs.
A GM software developer in Chandler makes $77,000 on average, 16 percent more than the average GM salary, and $10,000 more than a typical software developer earns, according to Career Bliss.
GM Chief Information Officer Randy Mott said the opportunity to hire coders and engineers from universities in the region helped sway GM officials to move to Arizona. The expansion will bring 500 more jobs to the center by 2018, in addition to the 500 already hired, officials said.
Economic oasis in the desert
Arizona's job outlook has been in large part shaped by a steady influx of baby boomers retiring to the desert, McPheters said.
"There's a path toward economic recovery (in Arizona)," McPheters said. "We're a lower cost state than our neighbors, one that continues to attract retirees, which creates jobs in food service and health care."
McPheters said the Valley's combination of available infrastructure and a talent pool of young college graduates also work in the state's favor when companies look to leave an economic footprint in Arizona.
"We have office space," McPheters said. "We have a readily available labor force with a lot of young, reasonably well-educated, capable workers."
That availability of college graduates incentivized Home Depot's expansion.
"Tempe just rose to the top," Parhar said. "The higher education here and having a strong recruiting base is important when you're trying to ramp up a new site."
GM officials also cited the educated workforce as a plus.
"The majority (of new hires) have come from Arizona State, University of Arizona, Brigham Young University and Northern Arizona University," Mott said in a statement. "GM is targeting recruitment efforts at up to a dozen key universities within each geographic region."
Another reason Arizona has become a popular option for companies looking for presence in the West is the outreach and involvement from local civic groups like the Greater Phoenix Economic Council and Arizona Chamber of Commerce, Parhar said.
"They were very eager to help us, which you don't always see in other communities," Parhar said. "In the process of selection, they were actively involved with our real estate partners and providing us data."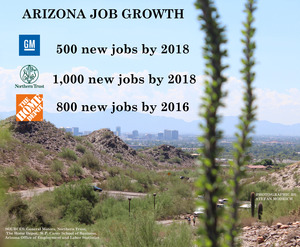 The Phoenix Mountain Preserve is one of several open space parks in Maricopa County which facilitate economic activity in the communities they serve.
As competition increases, challenges lie ahead
While Moody's projected to lead the U.S. in job growth in 2016, Arizona had the 10th-best job growth rate in 2015, according to the Bureau of Labor Statistics. Arizona's neighbors – Utah, California and Nevada – were ranked higher in 2015, according to the bureau.
McPheters said future projections may not account for competitive growth from other Western states.
"Arizona certainly is going to be one of the stronger growth states," McPheters said. "But it's really not likely that we're going to be the top growth state in 2016."
Utah is attracting high-tech jobs, and like Arizona, isn't dependent on energy like Texas, whose growth subsided with falling oil prices and lessened demand, McPheters said.
In Arizona, however, the unemployment rate, at 6.3 percent as of September, remains higher than the national average of 5.1 percent and has continued to increase since May.
Post-recession, the Arizona housing market prospered, but if the Federal Reserve raises interest rates, housing prices could be affected, he said.
There's also competition from Oregon and Washington, which had higher job-growth rates in 2015, according to the Bureau of Labor Statistics.
But McPheters said the progress Arizona has made is encouraging to both local and regional businesses with an eye on expansion opportunities.
"There aren't a whole lot of obstacles in Arizona," McPheters said. "The opportunities outweigh the obstacles significantly."
---
Here is a secondary article on the same topic
The Best States For Future Job Growth
Kurt Badenhausen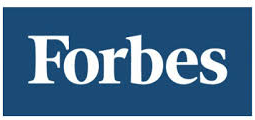 Oct 21, 2015 @ 9:45am
Arizona was absolutely hammered during the financial crisis of the late 2000s. Median home prices in the state plummeted 53% over five years from $250,000 in 2006 to $117,000. The foreclosure rate was the second highest in the U.S. for three straight years as construction ground to a halt. Unemployment peaked at 11.2% at the end of 2009 and net migration into the state fell sharply.
But Arizona has emerged from the wreckage to be one of the brighter spots in a slumbering U.S. economy thanks in part to renewed migration. Arizona's projected job growth is 3.1% annually though 2019, best in the U.S., according to forecasts from Moody's Analytics.
"Baby boomers retiring to Arizona is the main driver for Arizona's employment growth," says Kyle Hillman, an economist at Moody's focused on Arizona. This migration fuels jobs in healthcare and consumer services. Net migration into the state is projected to total 679,000 over the next five years. Only Nevada is expected to enjoy a faster migration rate.
Companies and workers are also finding their way to Arizona as a more affordable option to West Coast locales like the Bay Area and Seattle. The state offers a diversified economy with a skilled workforce.
Financial service firms have a heavy presence in Arizona with Wells Fargo WFC +0.00%, JPMorgan Chase JPM +1.52% and Bank of America BAC +0.00% among the 10 largest private employers in the state. In February, Northern Trust NTRS -1.37% announced plans to expand in Arizona by opening a new operating center in Tempe that will house 1,000 employees by 2018. "This step will provide us with access to significant talent pools and a strategic location that will help us efficiently serve our clients," said CEO Frederick Waddell in a statement announcing the news.
General Motors GM +0.00% opened a software-development center last year in Chandler, Ariz. with 500 employees and plans to add another 500 workers over the next three years. Many of the coders and engineers will be drawn from nearby Arizona State University.
Nevada has the second highest projected job growth rate at 2.9% a year. Nevada's economy is less diversified than Arizona's, as it leans heavily on tourism and mining for growth. Nevada has the highest average unemployment rate in 2015 at 6.8%, according to Moody's, but that is down from 13% in 2011.
Las Vegas is the engine that makes Nevada go with 70% of the states's $132 billion in economic activity based in Sin City. But the state has attracted non-tourism businesses in recent years as well. Tesla picked a location outside of Reno last year for its $5 billion lithium-ion battery factory. Governor Brian Sandoval offered the Elon Musk-founded company $1.25 billion in tax breaks over 20 years, but the factory is expected to create 6,500 jobs and $100 billion for Nevada's economy over two decades. The factory is expected to be completed in 2017 when Tesla begins production on its $35,000 Model 3 electric car.
Rounding out the top five states for future job growth are Florida (2.7%), Utah (2.5%) and Georgia (2.4%). Utah ranks at the head of the pack in Forbes' Best States for Business for a second straight year.
Not all jobs are created equal. Median household incomes are north of $60,000 in Utah, Washington and California, but are less than $53,000 in the other seven states projected to add jobs at the fastest rates.
Keep in mind that forecasts can change in a hurry. Arizona, Nevada and Florida are all heavily influenced by tourism, and a sudden downturn in the economy or jump in gas prices would dampen employment prospects. Texas had the fastest job growth projections a year ago, but lower energy prices laid waste to those forecasts. Texas fell out of the top 10 for job gains this year.
Modrich, Stefan. "Why Forbes projects Arizona to lead U.S. in job growth". Cronkite News 12:16 p.m. MST November 18, 2015
Badenhausen, Kurt. "The Best States for Futute Job Growth". Forbes 9:45 a.m. October 21, 2015
---